A Short and Mostly True Biography
Kelvin Mason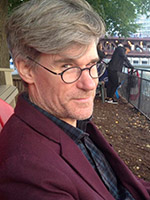 If I were to imagine the back of some trashy novel I just miraculously got published with a third-rate publishing house, I can see the little inch square photo of me trying to look scholarly and yet still concealing some terribly amusing secret while all the time remaining dignified. That was easy to picture for me. The hard part was to imagine what it would say along with it. To do this, I had to force myself to take stock of what I'd done with my life so far. And who, besides Socrates, would care for such a loathsome task? Well, I bit the bullet and here's what I came up with:
Kelvin Mason was born in Vancouver, British Columbia (but is not British or Columbian). Before he could remember anything, he moved to Kanata, Ontario, Canada. This city is credited as the very first subtopia, a city concieved and built entirely from scratch, with no preexisting settlement or history to hamper its developement. It was a place without a past, a place with nowhere to look but into the future. Its notable hightech industries certainly seemed to reinforce this idea.
The TV was broken so he spent most of his childhood lighting things on fire and climbing trees. When not being hauled off to the fire station for a good lecture, he was drawing and making things. If he wasn't making something, he was ripping something apart to see how it worked. Because teachers don't tend to like it when you rip things apart, Kelvin proved to be a terrible student. When he found he could draw and he decided to become an artist even before he left elementary school.
After a blurry and embarrassing time in high school, he left the protective confines of the suburbs and moved to Toronto to study at the Ontario College of Art. On a whim, he took a serigraphy class and was introduced to the world of printmaking. He started making books and using letterpress. He worked in an Art Gallery in Toronto before returning to school again, this time to the University of Guelph for a BA. He decided he needed to have a computer to write research papers, so his father coughed up the $1400 to buy his first Macintosh. Within a month he was working at the computer store on campus where he had bought it. Inside of the year, he was the floor manager. And he still hates computers to this day, but owns dozens of them. After only four semesters in Guelph he had his degree and was ready to move on to stranger and more remote places - grad school. The University of Arizona was just about as far and strange as he could imagine without having to learn another language. While in grad school he took time out to make some cash by working at Digital Frog International, an educational multimedia company in Guelph. He worked there every summer doing graphics, illustration and interface design until 2003.
After he graduated with his MFA in 1998, he took a job teaching at West Virginia Wesleyan College in Buckhannon, West Virginia where he eventually became Chair of the Department of Art and started working at Pilchuck Glass School as the print studio coordinator in the summers. After a short stint in Chicago where he taught interactive media studies and printmaking at North Central College, he moved on to start a new graphic design program at Augustana College in Rock Island, IL. As a media-independent artist, he uses both digital and tradiational media in the making of fine art and design. He has no cats.
This is getting kind of long so let's just pretend he died at this point.